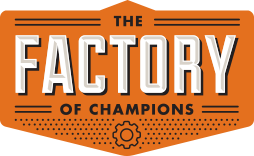 The Factory is a basketball, volleyball, multi-use court facility. We offer youth instruction and development, birthday parties and general court rental, as well as services for recreational and corporate events.
The Factory facility includes one NCAA/NBA regulation basketball court, s volleyball courts, and 6 basketball goals, which can be configured in a variety of combinations.  In addition, the facility houses 6 state-of-the-art Shoot 360 shooting and skill development bays.
37Ben and Jennie Hart acquired SA Factory of Champions in September of 2013. Always passionate about the game of basketball, Ben grew up in San Antonio and was an All-State player at Alamo Heights High School from 1989-1992, continuing on to play at Princeton University under Coach Pete Carril from 1992-96.
After college, Ben discovered the world of men's competitive 3×3 basketball, ultimately joining the team that captured the 2000 and 2001 Hoop It Up Men's Top Gun National Title. Through this experience, Ben saw firsthand what a powerful tool 3×3 can be for helping young players learn the game.
Prior to acquiring The Factory, Ben was employed at Rackspace Hosting for ten years, serving in various support and operations roles focusing on customer experience and employee engagement. Jennie and Ben have been married 17 years and while Ben spends his days in a big air-conditioned gym, Jennie holds down a real job. Their names are Berkley (15), Connor (13), and Noah (10).
Through The Factory, Ben and Jennie look forward to being a part of San Antonio's sports community while providing a best-in-class learning environment – one in which parents can trust and young athletes will thrive.
In the Winter of 2002, San Antonio businessman Doyle Walsh received a somewhat innocent request from his 12-year-old son James.  James was a 6th grader playing in a local community basketball league and their first practice was to be held at a nearby elementary school gym.  The problem:  when the team arrived, they were asked to split the single court with three other teams during their allotted hour – a difficult task.  That evening, walking to their car, the young baller turned to his father and said, "Dad, why don't we build our OWN gym?"
Now, it's likely this kind of request has been uttered by millions of boys across the country over the years, and likelier still the conversation ended as quickly as it began.
This day, however, was a little different.  Mr. Walsh's entrepreneurial spirit engaged.  It was a new and unique challenge, and Doyle went to work to see if it could be done and how he could make it work.
Two and a half years later, SA Factory of Champions opened for business in October 2004.  Initially, the plan was to open a basketball-only facility, but it became apparent that building for multi-use would be critical.  Over the next nine years, the model evolved to include volleyball, birthday parties, corporate events, men's and women's recreational leagues, youth indoor soccer, camps, clinics, tournaments, and just about everything else that might be imagined.  Located a quarter mile from the intersection of Loop 410 and Broadway, The Factory property includes two NCAA regulation basketball courts, 4 volleyball courts, 12 basketball goals, and 2 sand volleyball courts.
In September of 2013, Mr. Walsh sold The Factory to Ben and Jennie Hart.  "We are thrilled to be a part of the youth sports community and build on the amazing Factory brand Doyle has established.   We hope we're able to provide a best-in-class experience to all athletes who develop and compete within our facility."